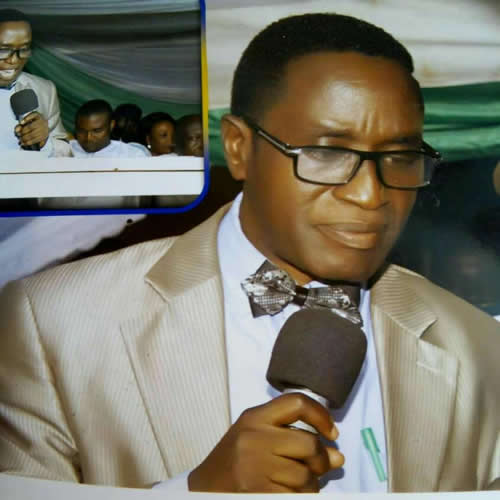 Dr. Johnson Adebayo Ojo
Pastor Dr. Johnson Adebayo Ojo (simply called Dr. Bayo Ojo), an academician, a Health Professional, a Scientist, and a Theologian is an indigene of Erijiyan Ekiti, born to the family of Mr. and Mrs S.V.A. Ojo 61 years ago.
His father, Late Mr. S.V.A. Ojo a.k.a Baba Teacher, a Headmaster was a Community Leader loved by his people for being generous, and a Guide-counselor to the younger ones on the need to be hard working, trustworthy, honest, morally sound, educated and God fearing.
Dr. Bayo Ojo commenced his early education in 1964 at St. Peter's Primary School, Ikole Ekiti, St. Mark's Primary School, Ise Ekiti, and he successfully completed it at St. Paul's Anglican/L.A Primary School, Erijiyan Ekiti in 1971.
He later proceeded to C.A.C. Grammar School, Efon Alaye where he got his O Level with 2nd Division in 1977 and thereafter studied at the School of Health Technology, Akure, Unife now OAU, University of Nigeria, Nsukka, Post Graduate Studies of the University of Ado Ekiti now EKSU, AIAU London, West African Post Graduate College of Environmental Health and Ecole Superieure Panafricaine Management (ESPAM) Formation University, Benin Republic, RCCG Bible College and the Nigerian Institute of Safety Professionals, (NISP), Lagos.
Dr. Bayo Ojo holds Ph.D in Public Health, M.Sc. Degree in Environmental Management, Post Graduate Diploma in Theology, B.Sc.(Hons) in Health Education, RSH (London) DPH, D.LGS, and Diploma in Public Health for Health Superintendent.
He is a Fellow of West African Post-Graduate College of Environmental Health (FWAPCEH), Fellow of College of Biomedical Engineering and Technology (FCBET), Fellow of Institute of Chattered Administrators (FICA), Fellow of Chattered Institute of Local Government and Public Administration of Nigeria (FCILGPAN), Fellow of Institute of Security, Nigeria (FISN) and Fellow of Healthcare Informatics Society of Nigeria (FHIS).
He is a Registered Environmental Health Officer with Practice License Certificate (LM. EHORECON), Abuja, Nigeria.
He holds the Certificate in Occupational Health and Membership Certificate of College of Biomedical Engineering and Technology, Nigeria.
He briefly served as an auxiliary teacher in Okemesi Modern School in 1977 and later in St. Anne's Catholic Primary School, Aramoko. In 1981, he became a Public Health Superintendent in some Local Government Areas in Ondo and Ekiti States of Nigeria. He rose to the rank and post of Director/Head of Environmental Health Services/WATSAN Director, during which he rid many communities of poor sanitary conditions, endemic parasitic diseases and he supervised the construction of boreholes to alleviate inadequacy of potable water supply in many communities.
He has been a West Africa Health Examinations Board (WAHEB) Examiner since 2002 and he is the Director of Professional Institute of Environmental Health for Environmental Health Officers Registration Council of Nigeria (EHORECON) Examinations and training of allied degree holders as Professional Environmental Health Officers, Ekiti State Learning Centre.
He was a Member of Ekiti State Environmental Sanitation Task Force from 2007 to 20014, coordinating Prosecution of sanitary cases in Ad-hoc duty capacity.