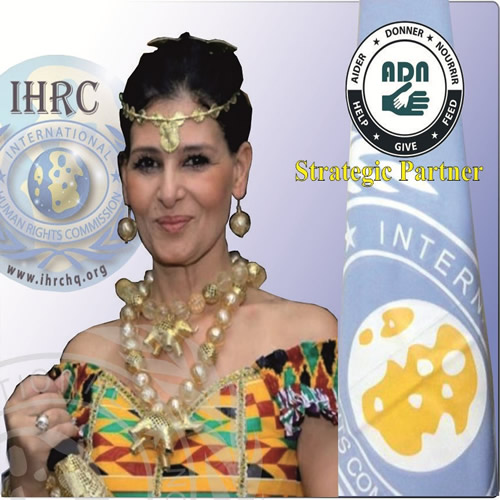 HRM Queen Nadia Harihiri
Her Royal Highness Queen Nadia Harihiri, Crowned Her Royal Majesty Queen Aya of the Continent of Africa on 26th October 2019 in a glorious ceremony that took place in Cote D'voire.
Her Royal Highness holds the position of Ambassador at Large for UN Affairs at the International Human Rights Commission, IHRC www.ihrchq.org. Arbitration Judge for the Federal Court of Human Rights.
She is President of the general planning and European Union of Aider Donner Nourrir (ADN International French NGO) which is a strategic partner of IHRC, Pro-Chancellor of Rockfield College of Sciences and Technology in Switzerland RCST www.rcsedu.ch/prochancellor, an institution known for its innovative academic curriculum.
She is President of CID Africa, Honorary President of United Leaders, Board member of GITAC Foundation www.gitac.net/gif.php
Founder and Executive Chairwoman of the NGO Successworld1 www.successworld1.org.
Global Ambassador at UNNATII – The Upliftment www.unattiifoundation.org. International Chairperson at African Festival Foundation. International Executive & Advisory Member of the Governing Council at Crown Point International College of Health Sciences and Technology www.cpicollege.edu.ng.
Her Royal Highness is passionate about providing High-quality Free education to all, through Successworld1 and her global partners who have joined hands with her in this time she will be working on making education, technology, and various other opportunities available to all. Creating a global network.
One of the main focuses of Successworld1 is to build villages for the homeless globally, by hosting musical concerts in different countries and locations, to raise funds and create a platform for talented artists to gain recognition, advance in their art, and share a positive message with the World.
Music is a vehicle that brings unity. By uniting artists across the globe to share a message of hope and peace through their craft we will begin to speak the same language of love.